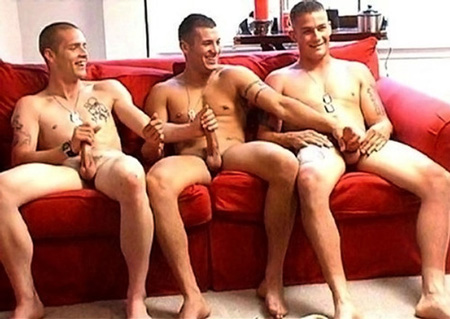 The circle jerk. Supposedly boys have done it (regardless of orientation) since time immemorial as a ritual of initiation. (I never experienced it, but I do remember pissing contests outside with this one kid I was later forbidden to play with. How did my mother find out?)

This underground jack off culture was immortalized in the "Four in Hand" quartet, a playlet from the controversial Oh! Calcutta!, an evening of short humorous playlets about sex that opened off Broadway in 1969. The "four in hand" is a knot sometimes used in men's neckties and ends up being a pun for a collective jerk off. It's interesting that the guys doing it are all ostensibly straight (women's breasts appear on the screen at one point, because whatever the guys think of shows up via a "telepathic transmitter"). But the guy running the scene is clear that it's a competition to see who cums first. Men will always be at heart (and in their groins) boys.

When gay men began to enjoy the fruits of their sexual liberation, they began to organize formal and informal jack off clubs. Some even became "respectable" and took on the trappings of not for protfit social clubs, with newsletters, weekend retreats, fundraisers, and websites. I would also think they would have become more popular as safe sex became a life and death matter during the height of the AIDS epidemic. The New York Jacks, founded in 1980, are still around. Seems like they've made the transition to the Internet Age (there's a message board), but I've noticed they don't do social media. Well, the point is live cock play … (But given the current gay gym culture, one can go to the locker room for a jack off and then report about it on craigstlist missed connections!)

...
Continue reading