I've lately decried what I consider to be an increasing lack of free choice in one's daily life (unless one is rich). In fact, there's one particular part of one's life, an important one, over which you have no control: your address. I doubt most people would move to a place because they like the name of the street. If one moves there, one is stuck with the address, like it or hate it.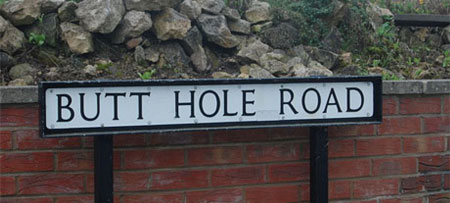 However, in 2009, the residents who lived on Butt Hole Road in Leicester, England, did have the name of the street changed. Apparently they were also sick of the constant mooning pics going on in front of the street sign. In contrast, the people who live on Butthole Lane (also in Leicester, England) like the name and defiantly refuse to change it. By the way, in both cases the word "butt" is either Anglo-Saxon or Middle English, and means a target, not an ass. Oh, well …

In the United States, the most common street names are mostly numbers (boring!) and innocuous ones named after trees like Maple and Oak. Main and Church are up their in popularity, harking back to the small town culture of America, still predominant up to the middle of the century.

In fact, according to the link above, "road names are pieces of history. They encode the culture and geography of America. In Arizona, popular street names are Apache, Palo Verde, Mesquite. In New Mexico, Cedar and Pinon top the list; In Colorado, it's Aspen and Spruce." For example, in Chicago, I've noticed Native American names like Winnemac and Milwaukee as well as the ubiquitous Lincoln because Chicago is in Illinois, the Land of Lincoln.

...