"The first 200 years, have seen us grow, and we're still growing … "

1976 was the bicentennial year. If you are "older" like me, you might remember The Bicentennial Minute, red, white and blue kitchens, and massively frightening fireworks displays.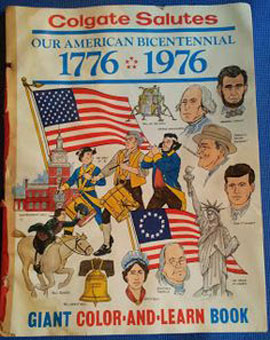 I also remember Sister Judy, forcing, as was her wont, the upper grades to teach the younger grades about events in American history. We were put in teams with people from other classes we did not know and expected to "put on a show in a barn;" less than stellar results usually occurred. She also forced, as was her wont, the eighth grade class to participate in various bicentennial-related projects. I chose the mural project. I could not paint or draw. Well, at least it wasn't sports.

While I was growing up in the white suburban Catholic ghetto, groundbreaking events in the advancement of LGBTQ rights were occurring in cities (downtown Chicago was very far away from me socially and psychologically) and states that might as well have been foreign countries or even alien planets to me:

January, 1976: Iowa repeals its "sexual psychopath" law. Passed in the wake of a moral panic following the 1954 rape and murder of a young boy, the law had been used to detain dozens of gay men in mental institutions in the 1950s.

May, 1976: City council of Los Angeles prohibits employment discrimination by the city based on sexual orientation.

July, 1976: U.S. state of Indiana decriminalizes private consensual adult homosexual acts.

September, 1976: Start of the three-day "Fourth Annual Gay Conference for Canada and Quebec," held in Toronto, including a rally and march.

...