I remember when I was growing up in the seventies talk of streaking; and given the penchant of pubescent boys of lying about physical (and sexual) exploits, several of my classmates claimed to have streaked. I'm pretty sure their only streaking may have been running wet and dripping from the shower to their bedrooms.

But given my sheltered upbringing, I knew nothing of the legendary Robert Opel Academy Awards streaking incident, not that the Academy Awards was forbidden television viewing in a household which banned Maude because the character had an abortion.

(Little did the Catholic household I grew up in know that streaking occurs in the Bible See Mark 14:50-52 for the famous naked youth in the Garden of Gethsemane; also go here for more information. Of course, the blog urges one to run from temptation. I would rather run toward it.)

According to Leigh Rutledge in The Gay Decades:

"April 2, 1974 Having inexplicably fascinated the nation for roughly six months, the fad of "streaking" reaches its apogee with gay photographer and former advertising executive Robert Opel, thirty-eight, plunges naked across the stage during a live broadcast of the Academy Awards ceremony in Los Angeles. Opel's "streak," almost certainly the most witnessed stunt of its kind, occurs during the most popular part of the telecast, the announcement of the award for Best Picture, thus guaranteeing him an estimated audience of more than one billion television viewers worldwide."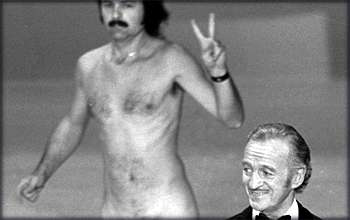 Yes, this really happened; here's a link to the true story.

But there's more, and it's even more shocking.

Robert Opel was murdered by an intruder at his art gallery who demanded drugs and money in 1979. Opel was famous for publicizing the works of gay artists Robert Mapplethorpe and Tom of Finland.

Opel was a well-known leatherman as well.

...
Continue reading