BijouBlog
Interesting and provocative thoughts on gay history, gay sexual history, gay porn, and gay popular culture.
International Mr. Leather -- 34 Years!
It's always hard to believe when you start thinking about dates and chronologies and discover that 1979 was more than 30 years ago. Stonewall was more than 40 years ago! For me, I remember those years well. From the beginning of video, to all those bar contests, now there is the Internet with its fetish sites, and even Grinder. But International Mr. Leather, which is also known as IML, is still here; it's an event where you still meet like-minded people face to face.

International Mr. Leather is the world's oldest international leather and fetish event on record. Started in the 1970s as a contest, "Mr. Gold Coast Leather," at a Chicago gay leather bar called the Gold Coast, under the aegis of its owner, Chuck Renslow, who still presides over this great event known as IML. In 1979, the event moved to a larger venue, and became International Mr. Leather, held at the Chicago Radisson Hotel. The first International Mr. Leather was David Kloss, one of twelve contestants.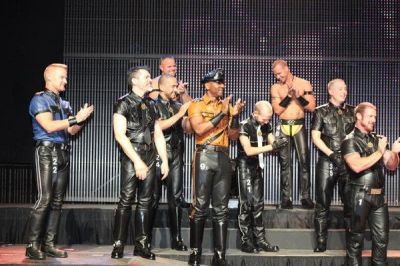 Since that time period, the contest has mushroomed into an event of massive proportions. IML features a leather/fetish vendor market, the International Mister Bootblack Contest, and a multitude of sex/fetish parties hosted by various organizations, dances and socials, and related sexual, fetish, leather events. The contest reportedly brings in an estimated $10 million dollars to the city of Chicago in tourism revenue. In today's world gay culture has become more accepted and integrated into the larger society, this fetish event in itself has become more diverse with hardcore gay leathermen mix with "bicurious hipsters" and tourists.
But what really makes this year's event historic is the President's pronouncement on gay marriage. Related to this context, given that gay marriage is legal in several states, two of the contestants are married. Even more significantly, according to one source, two civil unions will occur this year at the event. This is exciting!

Bijou Video and Theater this year once again will have a booth at the Vendor Mart. Stop by and check out our unique collection of vintage gay porn, some of which dates back to the 1960s, as well as to the origins of IML. As part of your Bijou IML experience, take a picture of yourself as a pornstar in one of our four porn scenes. To everyone this IML Memorial Day weekend, be safe and enjoy the party.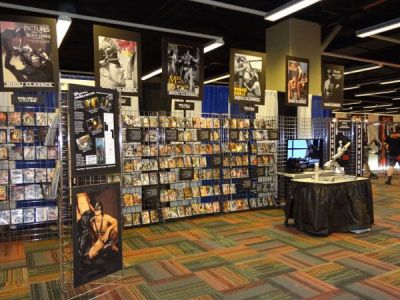 Trackback URL for this blog entry.