"BROKEBACK BATHROOM"
In 2004, I found out via the gay press that one of the men's bathroom in a building where I teach at was one of those "T-rooms," complete with a glory hole. Apparently the cops raided the bathroom, which by then had developed a reputation for clandestine sexual activity. The gloryhole was sealed and a sign placed in the room announcing that the area was now under surveillance by campus police. The publicity garnered by the raid earned the bathroom this nickname: "Brokeback Bathroom."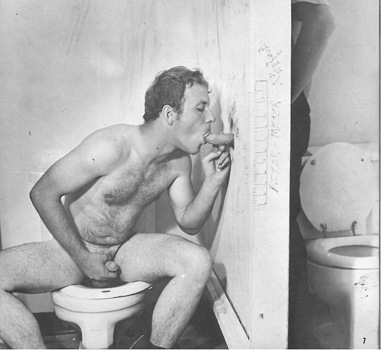 I never knew this activity was going on. Honestly. But one question really prompted further inquiry: in an age of wide-range tolerance for gay sexuality (ironically, the movie Brokeback Mountain indicative of this development), why the secret sex in unsanitary bathrooms? Only an "outlet" for married guys or guys in the closet? And even if a guy wasn't in that situation, why the appeal of sticking your dick in a hole and letting someone unknown person suck it? I enjoy oral sex immensely, but I like to see the person who is going down on me and play with others parts of his body. Apparently many others aren't necessarily interested in seeing what the cock is attached to!
WHAT IS A GLORY HOLE? WHAT'S IN THE NAME?
What is a glory hole, exactly? Why is the hole modified by the word glory, with all its complex connotations, including Biblical/religious ones (the word for glory in Hebrew is kavod, in Greek doxa)? It's interesting and perhaps significant, given the often blurry distinctions between the experience of sexual orgasm and religious mystical experience (think of the famous statue by Bernini, "The Ecstasy of St. Teresa"), that the word glory is an English translation of the Hebrew word which really means weight and could imply destruction related to powerful physical phenomena like thunder and lightning.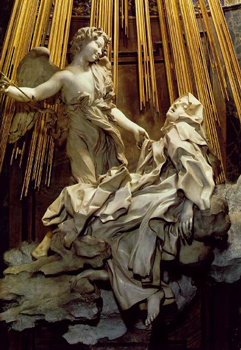 And according to W.R.F. Browning's Dictionary of the Bible, in certain sections of the Torah or Pentateuch (the first five books of the Bible), the "cloud" is a kind of covering through which the glory shines (Exod. 24:16-17). There appears to be strong associations with a supernatural power pulsing through the natural (thus both transcendent and immanent), which include sexual power, and also a kind of need to somehow "cover" or "conceal" that power (like the walls between the bathroom stalls) because of its physical (and spiritual) immensity.
POSSIBLE PSYCHOLOGICAL INTERPRETATION OF THE NAME
This context could give some weight (pun intended) to the rather florid and fanciful "etymology" from the unknown author of an article published in the late 1960s or early 1970s, "The Other Side of the Story: Defending Glory Holes."
Why are they named glory-holes? Possibly because of the glorious sexual release of being blown, standing with your erect prick stuck through it and being sucked off by a warm, hot mouth on the other side. Possibly, on the other hand, the "glory" belongs to the person doing the "job" on the other side of the wall, sucking on a fat, throbbing piece of meat, and receiving the thrill of a convulsive stream of jetting cum into his mouth as reward for a job well done.
Regardless of the hammy, cliched language, the unknown author touches on some of the motivations for such activity, including the anonymity (only seeing a mouth, for example), and even, despite the anonymity, an objective sense of accomplishment or reward without the context of a potentially complicated interpersonal relationship. Also, the anonymity can encourage a fetish, not only for say, an uncut cock or a thick one, but also perhaps attaching whatever face or body shape to that appendage, as argued by that same unknown author:
There is also the fantasizing of sucking on an organ which you can mentally attach to anyone you wish - an unobtainable "straight" friend, a movie star hero, a famous athlete; indeed, anyone at all! It's simply PRICK! And prick alone, in its raw, unadulterated state!
A private fantasy becomes public in a way one can't express publicly.
BRIEF HISTORY OF GLORY HOLES
Whatever the psychological and social ramifications, as well as possible etymologies and connotations of the glory hole, it can be still found in public bathrooms throughout the United States located in movie theaters, truck stops, adult bookstores, gay bars, and as I stated in the introduction, university rest rooms. Glory holes are most often located in Tea Rooms or T-Rooms, which evolved from the nickname "toilet room." These tea rooms were public toilet areas where secretive homosexual activity occurred, as early as the eighteenth century. Of course getting caught (as is still the case) would mean some form of criminal punishment, which in the past included the pillory and the gallows.
In the repressive environment of the 1950s, the T-room with its omnipresent glory hole was a significant place where gay men could at least obtain some sexual, if not interpersonal, contact. Before Newton Arvin, the famous "scarlet professor," was arrested in 1960 for possession of obscene materials (those vintage physique magazines and 16mm movies) and "lewd" behavior, he used to routinely cruise public bathrooms and bus stations. He had been married, but much later in life he admitted to himself and a few select others his homosexuality and began to act on it in the only possible situations available to gays during this period.
Professor Arvin's, and others like him, position was given a particularly impersonal ambience, bleak as a typical bus station, by David Reuben in his 1970s book Everything You Wanted to Know About Sex - But Were Afraid to Ask:
Most homosexuals will quickly tell you that they cruise public restrooms because they are there, because certain of such places are well known for such activity, because there are few other places a person can go in the daytime for sex, and a myriad of other reasons. For some, a t-room is quick and convenient. These are the people who dig impersonal sex, people who live with their families and can't bring a trick home, or people fearing to get involved.
GLORY HOLES AND THE GAY CLOSET
The book Glory Hole: A Study of Homosexual Activity in Public Places (no date, no publication information; looks to be early 1970s), a pornographic book touted as educational material with some interesting articles (including the one cited above defending glory holes), uses the above book as a source and corroborates this rather bleak view to some extent. Yet this view, as the text says, of the "sordid squalor of the nation's public toilets" seems to fight against the graphic pictures and jerk-off stories of glory hole sex in the book. Or is there really a conflict there?
This text quotes from a source called Psychopathia Sexualis, which connects glory hole behavior with masochism, the thrill of getting caught and the public humiliation that ensues (different from the consensual S/M which often involves public humiliation in a space with other S/M participants and in the context of a scene). Perhaps this supposed masochism is also linked to the thrill of breaking a taboo ... even the thrill of looking at pictures (as in the book Glory Hole) and viewing movies of glory hole sex when one knows the actual situation could be fraught with danger.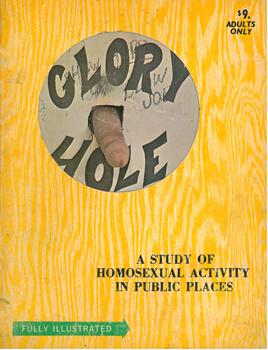 Glory Hole also attempts to formulate a solution for its time period, claiming that such sex can be addictive and also implying that such sex is ultimately harmful. Yet, the article argues, if the states eliminated laws against sodomy in private, perhaps homosexuals wouldn't be forced to have sex in bathrooms. Obviously the situation isn't that simple, but it does connect on a deeper level to the whole issue of being in the closet.
The closet connection is something of a knotty contradiction. If a guy is prohibited from having sex in his own home across the board, legally forcing him to live in the closet, why does having sex in public (the bathroom) constitute a release from that closet? And practically speaking in this situation, wouldn't it be safer to do it in your own home rather than risk arrest by doing it in public, even it is illegal to do it anywhere? Yet, if he can do it legally in the bedroom of one's own home, then perhaps, just perhaps, he wouldn't indulge in sexually addictive bathroom behavior. Unless, as is often the case, he finds bathroom sex to be a big turn on, closet or no closet.
One other source the book uses, at that time the most detailed study of glory holes, Tearoom Trade: Impersonal Sex in Public Places by Laud Humphreys, pretty much assumes the situation is hopeless for those who do glory hole sex. The 1960s and 70s were a time when "interpersonal" relations that built self-esteem and self-actualization were emphasized, as in the psychology of Abraham Maslow; perhaps Humphreys is working in this context, finding the impersonality of tearoom sex (such as no conversation between the participants) to be psychologically damaging.
Humphreys does give some interesting detail on the actual physical dynamic going in the T-room, using anecdotal evidence and perhaps making some stereotypical assumptions about glory hole patrons, argues that the "patrons" are mostly "closet queens:"
The so-called "closet queens" are the persons most attracted to tearoom sex. Tearooms are popular because they serve as gathering places for homosexuals, but because they attract a variety of men, a minority of whom are active in the homosexual subculture and a large group of whom have homosexual self-identity.
In addition to the closet queen participants, Humphreys notes, some act as voyeurs, and also serve as a lookout for the police, a "watchqueen." The situation Humphreys describes may stem from a closeted gay subculture, but even in that specific situation, many devotees of glory hole sex may have indulged in bathroom sex for a many other reasons, such as raw sexual excitement, the anonymity (as mentioned above), or a fetish for the ubiquitous hole, and they may have come from a variety of social situations, not just the gay closet.
GLORY HOLES, THE LAW, AND POLITICS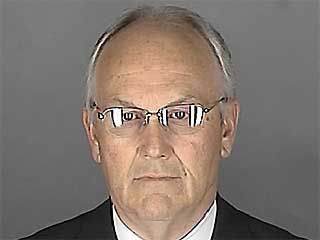 Yet again, despite attempts to investigate and analyze the behavior from a psychosocial perspective, the issue is also a legal one that that straddles the issues of private and public social norms. Glory Hole also contains an article, "Public Homosexual Activity and the Law," which ends up being a critique of the sodomy laws, which outlaw private homosexual sex and ironically force gays in to the public bathrooms, during the period and also the methods of enforcing public decency. This article really attacks the use of the police officer decoy (still a threatening presence today), claiming the practice is hypocritical:
This "decoy" method of law enforcement has lately come under a lot of scrutiny by the courts which would violate the individual's constitutional rights. It would seem that society's interest in protecting the public against lewd solicitation is endangered just as much if the solicitation is made by a private citizen or a vice squad cop.
The article also describes a scenario which could resemble the recent Senator Larry Craig bathroom scandal, except the "closet queen" Craig was doing the foot tapping:
The undercover police officer seeks to provide an opportunity for a homosexual to either commit a lewd act or to make a solicitation for such act. In order to invite such solicitation, the undercover cop may sometimes spend lengthy periods of time at the urinals or sinks of a public toilet; he may sit in a stall and tap his foot or clear his throat to attract the unsuspecting homosexual's attention.
Larry Craig is definitely a throwback to this era, a conservative married guy whose only outlet for his sexuality was the bathroom. In Craig's case, the hypocrisy (given his public persona and anti-gay voting record) was obviously more on his part rather than on the part of the arresting officer.
GLORY HOLES OUT OF THE CLOSET AND INTO GAY PORN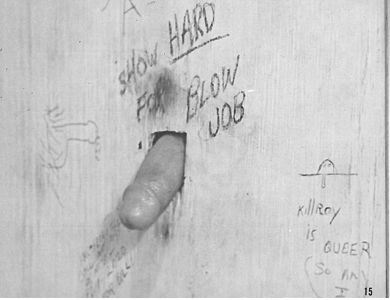 One wonders if the sexual revolution of the 1960s and post-Stonewall 1970s, and the ensuing AIDS epidemic of the 1980s, really made any change in the glory hole dynamic describe above. Gay bathhouses (and bookstores today) in the 1970s often contained glory holes, but they were more a sexual fetish tool, for those who are turned on by that type of sex, located in an environment that was not really public like an actual bathroom.
What the 1970s and 1980s did contribute to the now-iconic glory hole was a slew of porn movies that showed really hot, enticing glory sex. Yes, the sex in these films was obviously staged and thus lacked the danger and anonymity of the real event, but art can often improve on its imitation of life.
These are some of films available from Bijou Video that contain glory hole/ T-room sex:
Twelve at Noon The Bigger the Better Oversize Load
Bijou Video offers some enticing descriptions of bathroom stall action in its reviews of these films.
Check out the blog section of our Web site for more articles about gay sexuality and culture.
Continue reading