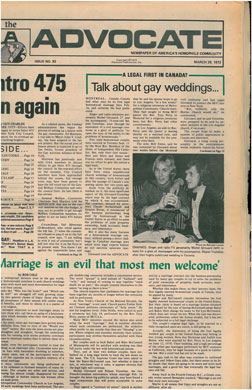 The Advocate in its March 29, 1972 issue publicizes a "gay wedding" in Canada, yes, in 1972. According to the feature story, Michael Girouard, a radio-television personality, and Rejean Tremblay were married, publicly, in Toronto on September 11 (?!) by a bishop of the "Order of Independent Old Catholics." (definitely not the Roman Catholic Church!). Now, of course, gay marriage is legal in Canada, and has been since 2005, but 1972, that's pretty cool.
Yet another article about this topic foreshadows the current dispute about gay marriage: that gays should not mimic heterosexual marriage "demeans what they views an emerging gay lifestyle." Though, at this time, the gay-friendly Metropolitan Community Church was marrying many couples, though of course they could not possess any practical legal benefits. Remember again this is 1972, no protest's, no church and crazy right wingers, no congress, no politicking, not a big issue.
What is also fascinating is the argument back in 1972 about why gays would even want to partake in marriage with its heterosexual "cultural" history, whatever the legal benefits, still a related issue in the ongoing debate.
On a final note, I also wonder whether Tremblay and Girouard are still married, survived the AIDS epidemic, and if they were able to really "get married" in Canada. If that is the case, faith, hope, and love have triumphed.
Continue reading