In 1957, Barton Horvath's published his own muscle magazine. Horvath started appearing in Joe Weider's magazines, both posing in photos and writing article, but then began publishing his own magazine. Born in New York City, Barton personified the Greek ideal of "a sound mind in a sound body" by studying opera and fine painting, while building his body (and apparently he wasn't that prominent on the contest circuit). And he was heterosexual (not Greek, that term being a coded word for homosexual), quite ironic given the controversy that arose when he began publishing Muscle Sculpture.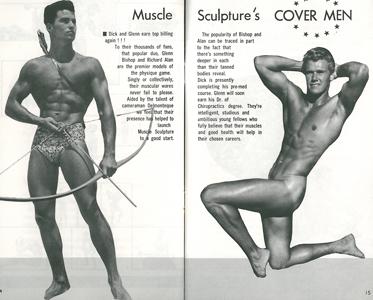 By the middle of the 1950s, the Strength and Health bodybuilding empire, which includes the muscle magazine by that name, had severed ties (partly due to censorship issues) with the overtly homoerotic physical culture publications like Physique Pictorial (Bob Mizer) and Grecian Guild (which avowed the same "Greek" ideal lauded in earlier "straight" physical culture publications). Joe Weider, who had branched out into more homoerotic publications like Body Beautiful, and who would, even more overtly, with Demigods in the early 1960s, was a particular target of homophobic scorn, as indicated by this letter to the editor published in Strength and Health, October 1957, page 61:
"Weedy and Obscenity... The case against Wonderful Weedy's Body Beautiful publications for conspiracy to distribute indecent literature has not yet come to trial. They were indicted by the Union County (NJ) Grand Jury late in April. However we are happy to report that Strength & Health has been taken off the list of objectionable magazines by The National Office for Decent Literature, and is available on newsstands in Weedy's home county. All other muscle mags, and all the tiny slimy homo books are still barred. Barton Horvath, Weedy's chief hatchet man for years, has deserted Mr. Wonderful and now is putting out his own homo-pornographic booklet, Muscle Sculpture. This bird was hauled in some years ago on a rap of selling nude photos. His new classic, featuring pretty boys in and out of G-strings, is made to order for the swish trade. We gently warn unwary bodybuilders about sending photos to such publications, because you, too, may wind up in court . . . and you will be barred from competing in any sanctioned AAU physique contest, such as the Mr. America competition. You have nothing to gain and everything to lose."
Weedy? Joe Weider, of course (not the drug, but the reference does tell in a derogatory way in a time when cannabis was called weed, boo, and grass). What's interesting here is that the "straight" Strength and Health bodybuilding empire had been posing guys in skimpy attire (and perhaps nothing, given some of the more clever poses) for years. They just didn't consciously (maybe ... ) market such images to homosexuals. Mizer and other like him started doing so, though, at first in heavily coded language and photos not much different from those in Weider's publications.
This issue is pretty tame compared to what Physique Pictorial was putting out during this time period. Many of the features advertise Barton himself and his health products. There are the usual how-to and inspirational physical culture articles, plus some covering up of nude physiques with towels and some enticing shots of bare asses, but no more, in fact, less, than what Vim and Tomorrow's Man were showing at this time. The ad for slides and photos of one hot little number with a high, tight ass, Jack Mercury, shown right after a shower (doesn't that name resemble a porn name?), resemble more of the homoerotic materials Bob Mizer and the like were producing and advertising at this time, those pornographic male nudies. Bob Delmonteque and Jack Sidney took many of the photos in this issue.
In the first issue, the heterosexual Bob Delmonteque offers a stunning self-portrait on the inside front cover (and he is still going strong, literally, in his eighties, though he withdrew from the physique photography business in the late fifties when he realized it wasn't that ... er ... wholesome). Bijou Video carries many of these historically significant magazines. New ones are added to our web site daily.
Continue reading