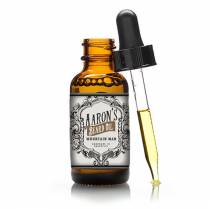 Psalm 133:1-2
Behold, how good and how pleasant it is for brothers to dwell together in unity! It is like the precious ointment upon the head, that runs down upon the beard, Aaron's beard, that runs down to the hem of his garments.

Why am I quoting a psalm from the Bible? We are just released a new porn compilation, Love a Man with a Beard 3, on DVD and streaming, and it's pretty obvious that the passage above refers to a beard. Not just any beard, but the beard of the first high priest of Israel. But something is happening on the beard. Oil is running down it, profusely. Why?

The Talmud makes the connection between these this passage and another passage in the Bible, Leviticus 8: 10, 12. Psalm 133 makes concrete heaven's response to the actions of Moses and Aaron as they fulfilled their roles as servants of God. Moses and Aaron were brothers who stood together as one unified presence before God, especially as Moses anointed his brother Aaron for the service of the tabernacle (which contained the famous Ark of the Covenant); together they blessed the people (Leviticus 9:23). In their culture, blessings were physical: fertility (the end result of sexual prowess in Biblical culture) and wealth, as well as spiritual/emotional ones such as peace and intimacy.
...
Continue reading